Rainbow Riches Tips Guide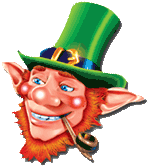 As a slots player have you ever asked yourself the question; "should I have a strategy?" For those of you who're avid players of the Rainbow Riches slots this might seem a strange question, as you've probably already masterminded your own bonus busting tactics. However, for those who're new to these games, we've studied a few of the Rainbow Riches slot machine operators, in the hope of gleaning a few hints, tips, tricks and cheats along the way.
We have noted a few key points from our findings; things that may seem blatantly obvious to some, but may appear simply brand new to others. If you have a few minutes to glance through the results of our Sherlock-like investigations into Win Big Shindig and Pots of Gold then you might find that you not only save yourself a few pennies, but actually make yourself a whole pile more.
When you first start to play either Rainbow Riches game, it's always best to have an idea of what your spend is going to be for that given time period, then set aside that amount of money and stick with it. If you win and want to carry on, then why not set aside your initial amount as a fallback, so you're only gambling with your winnings. We'd also advise you not to sit and play either Rainbow Riches slot online for hours on end without a break, or you may well find that you turn into a reel game zombie.
All slot machines work a on a Random Number Generator (RNG), which was developed by Bally in 1984 and lead to a massive rise in the number of video slots available in Vegas, many of which were fore-runners to the online slots people enjoy today. As this RNG makes the outcome of any slot machine totally random, it could pay out a massive jackpot on any spin. In fact it's got as much chance to pay the jackpot on a spin after a massive payout as on any other spin, so don't worry about leaving a Rainbow Riches slot game for a while, as the odds of you taking out a big prize will be exactly the same when you come back.
Be sure to understand how the maximum credit and bet system works. Obviously when you start off by playing a single credit, you can only going to win a small amount, as the prizes are always given as a multiplier on your stake. Whereas if you're brave enough to go for the max bet (increasing your wager fivefold) then you of course increase your potential winnings by the same factor of five.

Always check any casinos paying out and paying in rules, as even though most operators will be the same, if they are not and you have not checked that your happy with their standards you'll have no recourse of action. When it comes to slot game play, make sure you always read the pay-tables so you understand the calculations for maximum payouts. Once you get the hang of this you'll find it very easy to look at any slot game, not just the Rainbow Riches machines, and assess it's suitability for play.
Get to grips with the bonus rounds on your slot game of choice. Rainbow Riches Pots of Gold boasts some great bonus features, including the Wishing Well bonus and the Pots of Luck and Road to Riches sub games, all of which have the potential to pay some pretty big prizes. Make sure you have a quick glance through their features and benefits, as you may be able to get that lucky streak by hitting the bonus features two, three or even four times consecutively. Our featured operators are a great place to check out these bonus features, as you can sign up easily or take a few investigative spins for yourself on Win Big Shindig and Pots of Gold on free-play.
Overall these are just a few hints and tips that we have picked up while reviewing our favourite leprechaun inspired casino slots. Many people play Rainbow Riches not only for a great experience, but also for the hope that this is the one slot game where they can potentially really hit it big.
One final note; if you have followed our hints and tips and you still find yourself struggling to make grab the gold, then make sure you play Rainbow Riches for free. It's good learn the ropes this way, and it's exactly the same principle and the skills you get from practice will hold you in great stead when you return to the real money reels.
Best of Irish luck to yas!
Click here to find the best places to play Rainbow Riches!