Rainbow Riches Win Big Shindig Game Review
Rainbow Riches – Win Big Shindig is the latest installment in the super-popular Rainbow Riches slot series. Does this game have what it takes to capture the attentions of the UK's online slot playing audience, competing in an arena that's already stuffed to the brim with high-quality slot games? We delve into this colourful, online slot to see if it can mix it up with the big reel boys.
The Rainbow Riches Win Big Shindig Video
Javascript disabled! Click here for video.
About The Game
Rainbow Riches – Win Big Shindig differs from its predecessors in that it only has ten pay-lines across the standard five reel, fifteen stop-space set up. Don't however think for even a moment that this in any way takes away from the fun you've come to expect from the Rainbow Riches machines. There are less than ten symbols in Win Big Shindig with many of these appearing in stacks in the reels, which gives you some big chances to hit your slot pay-day, without having to risk all that money on the twenty or more pay lines on offer from the majority of online slots.
As with all Rainbow Riches machines, Win Big Shindig is a superbly designed slot game with a perfect audio track. The sounds accentuate the game excellently, without overpowering the experience and should you play this slot game on its auto-play feature, then an Irish jig style track will accompany your spins until they run out. Again, graphically Win Big Shindig hits all the right switches, with animated reel symbols and a golden coin 'rain effect' for the top slot pay outs. The world-class game-play on this Rainbow Riches title makes it a must try for any novice player.
The Rainbow Riches series wouldn't be the same without the excellent leprechaun themed slot sub games that have come to be synonymous with these brilliant online slots. Win Big Shindig gives you two sub games that are quite distinctly different from the features on the other titles in this series.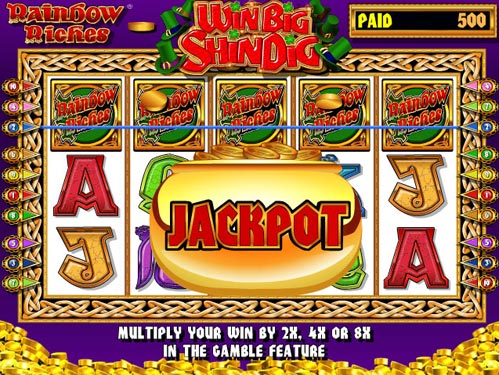 Bonus Rounds
The first sub game on Win Big Shindig is the gamble feature, which allows players to turn small wins into an award of up to 1000 credits. If you score a prize that's less than 1000 credits you can press the gamble button, which takes you onto the bonus gamble game screen. Here you have a chance to gamble your win against different odds (from 1:1 through to 8:1) as well as being able to bank half your winnings and take another spin on the wheel, up to five times for any win.
The second bonus game on Win Big Shindig is the pick me bonus game that can take you through to the best Win Big Shindig bonus game, the Pots of Luck bonus. You've got to scatter in three green top-hats to activate the pick me bonus. You then get to chose one of these hats, which will then reveal a prize that will either be entrance into the Pots of Luck bonus or an amount of credits expressed as a multiplier applied to your original stake amount. The pots of luck bonus game is the best paying sub game in Rainbow Riches Win Big Shindig. Unfortunately there's very little player involvement in this bonus (hopefully the gamble feature will more than make up for this) as you watch the Rainbow Riches leprechaun dance round a series of pots. When the music stops the pot the leprechaun is dancing on is awarded to you, and if you're really lucky you can win this online slot's top prize of 500x your total spin cost.
Why Play Rainbow Riches Win Big Shindig?
In summation Rainbow Riches Win Big Shindig has something to offer every level of slot game player. From the beautiful graphics and easy to use interface, through to the stacked symbols, gamble feature and sub game bonuses, everything about this brilliant online slot speaks playability and lastability. In fact we'd question why you're still here reading this review, wasting valuable time you could be spending on your favourite Rainbow Riches online slot!
Where to Play Rainbow Riches Slot