Ghostbusters Slot
Ghostbusters, the slot machine, has been doing the rounds in Las Vegas since 2010. Even though the film franchise it's based on is now almost thirty years old, it hasn't stopped this game from becoming a reel favourite (see what we did there) with the Nevada punters who reckon it's not half bad if you're looking to score in some pretty broad acres.
If There's Something Slot... In Your Neighbourhood...
Ghostbusters is a good looking slot machine that uses some of the most iconic images of the film for reel art. You've got the fabulous four themselves on the reels, although when you look at these near photo-perfect images you'll notice that most of the guy's faces have been photo-shopped just that little bit to make them look better. We don't know what was wrong with the old spotty faced shots – we like our heroes with a bit of real.
Javascript disabled! Click here for video.
Music-wise this machine was always going to be covered. There was no way you could have a slot based on this epic film without it featuring the awesome Ray Parker Jnr. soundtrack that helped the film become such a roaring success. This tune plays all the way through the reel action and really does help add to the levels of excitement. You can't help but tap your foot as this funky groove plays out.
This slot machine uses a fifty pay-line system, which operates off a fixed bet. You pay one set amount of cash (you can pay more of course to ramp up your gamble) in order to play all the lines in this game. It's not negotiable – much like the set fee the Ghostbusters themselves would charge you if you wanted your abode cleared of spectral activity.
Who You Gonna Call?
One of the best things about the Ghostbusters slot machine is the wide variety of random reel awards. Whilst many games may feature one or two of these mechanisms, you get a whopping four different ways to boost your wins here.
These include the special 'slimed' bonus, which can turn any number of the first three reels completely wild. There's also a random cash bonus that just pays money into your bankroll. The ghostly wilds appear at random adding extra wilds all over the reels and then finally you've got the multiplier award, which appears from nowhere to give you a multiplier on your next spin that could be anywhere between 2x and 5x the normal pay-out.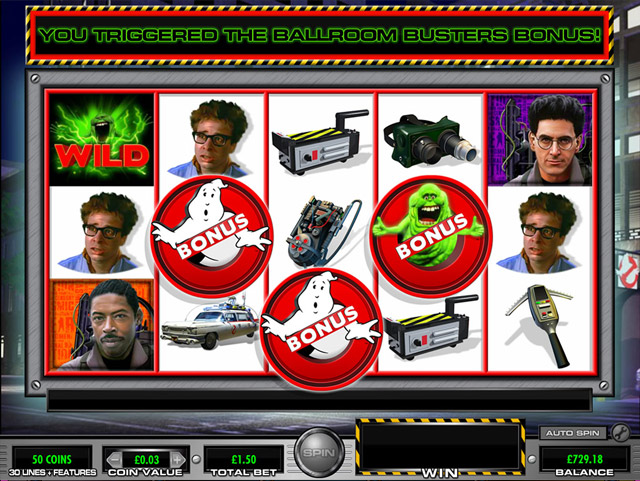 I Aint Afraid Of No Bonuses!
There are two great little bonus games on Ghostbusters. Both are activated in the same manner, using a traditional scatter system that works on the machine's middle three reels. Stop in two of the bonus scatter symbols on the second and third reels together with the bonus identifying scatter on the fourth to start either the Ballroom Busters or Stay-Puft bonus.
The Ballroom bonus recreates the classic Ghostbusters scene where the boys are chasing the 'Ugly Little Spud' (who later became known as Slimer) round the hotel ballroom in the early part of the film. Here you try to find out where this little green ghost is hiding by picking out objects and earning yourself prizes in the process. A simple bonus game that can pay out some complex prizes.
Looking for a free spin game? Then look no further than the Stay Puft marshmallow man bonus. Of course, in the UK this chap does look a bit more like the Michelin man, but we'll let that one pass for the sake of artistic license. Score in the necessary scatters to take you to the standard set of second reels. Here you'll be greeted with a whole new symbol set, including photos of our four boys in courtroom attire. The great thing about this free spin round is that after every spin, a bunch of burning marshmallows will fall down onto the reels and stick in place, acting as wild symbols for the duration of the round. This is a great little feature that can really help you score an explosive amount of cash, without you having to run the risk of crossing the beams.
Ghostbusters!
When Zule has been defeated and Gozer has been banished back to the nth plane of hell, what kind of slot machine is Ghostbusters when you really get down to it? Well, in our opinion, and do remember we've played a whole lot of casino games, this is a real classic. We're very impressed with the action on offer here and the way this machine seems to almost constantly spit out the wins. It's a great game and worthy of a load of your attention. Hell, it's even got the mighty Rick Moranis on the reels!
Click here to play Ghostbusters Slots Today!