Star Trek - Against All Odds Slot
Star Trek – Against All Odds is a very sexy Multi-Way slot machine from IGT. Although it doesn't actually replace their earlier Star Trek slot machine, we're sure that its bound to take over as it's simply a better game. The original IGT Star Trek slot used a special bonus system (although this may now have been changed) that promised a whole load of different features – the only problem was that they were simply too hard to hit. This later game however promises a whole load more wins, as it packs 720 different ways to win together with a very high bonus game activation frequency.
Javascript disabled! Click here for video.
The Reels Cannae Take It!
As we mentioned, Star Trek – Against All Odds uses a special reel set up called the Multi-Way Xtra system. This pays out for multiple combinations across the reels – you get an additional multiplier for every permutation of that combination you stop in on a single spin. On top of this the game pays out for combinations that read from both the right and left sides of the grid. This gives you 720 different ways to win in total, which means this machine is packing a whole lot of fire-power.
It's A Second Screen Bonus, But Not As We Know It!
Stop in five of the special alien space-ship symbols to find your way into the second screen round – The Enterprise Defender bonus. This sees you fight off an enemy starship using the mouse. You have to shoot down incoming bombs and missiles, which score you points. The more points you get, the higher your rating as a Federation officer. Why does this matter? Well you'll see in the next part of the bonus round.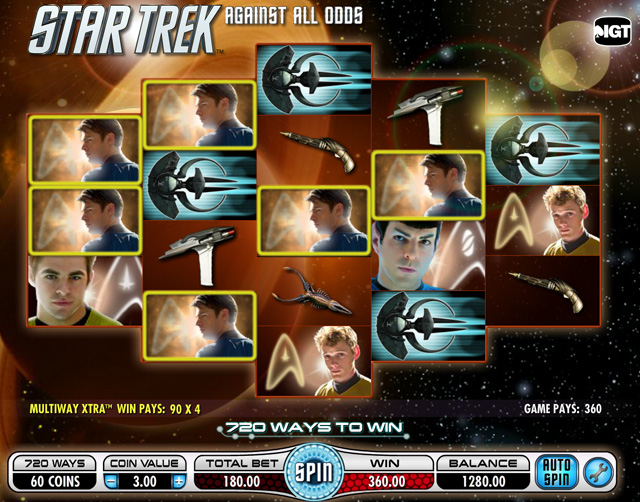 Bonus Me Up, Scotty
Shoot for show, spin the wheel of fortune for dough. Once you're done protecting the Enterprise, you get to take a few cash spins on a special wheel of fortune game, modelled on the central core of the said Starship. The higher your ranking in the skill based bonus round, the better the prizes on offer here. All you have to do it press a button and wait to see what kind of prize you've hit, then collect your money...
To Boldly Go Where No Slot Has Gone Before...
Star Trek – Against All Odds is a fun game to play, but does it have it where it counts in the wins and spins? Well, we've only gone and done our usual analysis, sitting up like Mr Spock, pouring over the pay-table and experimenting with various playing sections and we've got to say that this machine is pretty tight and doesn't like to pay-out. However, this is nicely balanced by the bonus game, which seems to really put the cash out there.
So our advice to you is that when you've been on the second screen and done your Captain Kirk thing with the phasers, get the money and beam yourself back to planet cash after you've hit a big bonus round win.
Click here to play Star Trek Slots Today!