Clover Rollover Slot
Every genre of gambling games has its big prize money classics. If you look at most different types of slot games there's usually a massive progressive hiding around in the background somewhere. For instance, if you're into Egyptian themed slot games then you can take your pick from titles such as Cleopatra Megajackpots and Mega Moolah Isis, both of which have the power to pay out prizes that could change your life. However there are very few Irish themed slot games that give you a chance to hit one of these huge prizes, so we're delighted to see that you can now grab a prize that could be as much as seven big, red hot figures with the Clover Rollover progressive slot.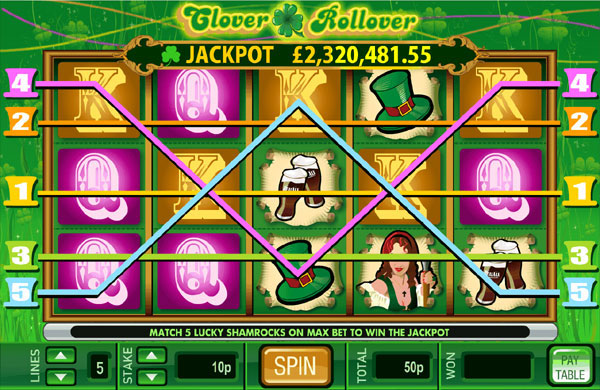 Clover Rollover is an old school slot game that's very similar to the games that would have populated Las Vegas casinos in the 1990s. It's got a simple set up, giving you five reels with five pay-lines spread over them in a classic arrangement. You've got nine symbols here, including some classic icons of Irish life such as the pint of Guinness and the Celtic cross, all of which are set in a gorgeous emerald green coloured backdrop. The animations and sonics are solid, providing a good backing to this compact casino classic. We couldn't find fault with any aspect of Clover Rollover's presentation and would recommend it to even the most picky of slot jockeys.
Clover Rollover Bonus Rounds
So how do you hit the big money on Clover Rollover? Well, as with many big progressive slot games you'll need to bet the maximum in order to qualify for the top jackpot prize. We've all heard the horror stories about the unlucky punter in Las Vegas who was playing a progressive at just below the max bet level, when they hit the lucky five symbols that should have taken them to payout heaven only to find that they hadn't bet enough to qualify, they only got paid at the standard jackpot amount. So if you're betting the max amount on this game and you're lucky enough to stop in five shamrock symbols on any of the game's five pay-lines then you'll be in for a mega money payout. The jackpot on this game can grow quite large (apparently it's been as big as £3.5 million before paying out) and it seeds at a very respectable £350,000.
So if you love the Rainbow Riches slot games and you're looking for a good progressive then Clover Rollover could well be the one for you. However, we feel we should ask the question who else would this slot game appeal too? Well, we believe that this is one of the best priced progressive games on the market so we think that anyone out there who's looking for a slot with a fairly low spin cost that can still offer life changing prizes on a single spin. In our opinion this game is a lot more fun than the National Lottery so why not give it a try today?