Sky Vegas Low Stakes Roulette
Being one of the most iconic casino games Roulette provides a glamorous, exciting and sophisticated gaming experience.
Low stakes Roulette from Sky Vegas is a state of the art game with stunning graphics and an excellent user interface. You will believe you are in a real casino! The game follows standard roulette protocol, simply select your stake, whether it's black, red, odds or evens, any number from 0 to 36, rows, columns or groups of numbers. Then place your bets and spin the wheel. Feel the thrill of the casino and watch as the wheel spins round and the ball finds its place.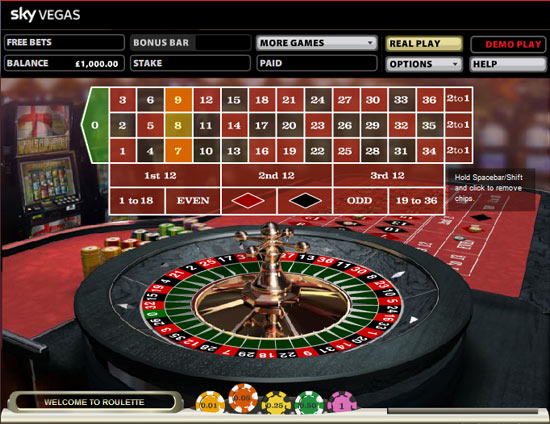 Multiple bets and stakes are possible and you can bet from as little as 1p up to £25 per number! As the cursor moves across the betting table, the specific betting fields illuminate and their potential yield is shown where you can win up to 36x your bet.
If you are looking for something with larger stake values why not try Roulette - High stakes from Sky Vegas and bet from £1 upwards.
Visit Sky Vegas Casino
« Back To Sky Vegas Casino Review