Paddy Power Wolf Run Slot
A little different from the usual run-of-the-mill casino slots, Wolf Run is full of pleasant surprises. Take 5 reels and 40 paylines, add stacked wilds, throw in a retriggering bonus feature and you've got a pretty tempting package. This game stays ahead of the pack with by offering players excellent odds. How does a payout percentage of 94.98% grab you? How about a maximum payout of 1000 credits? It doesn't take the brain of a rocket scientist to work out why Wolf Run is universally popular. You really couldn't ask for more chances to win.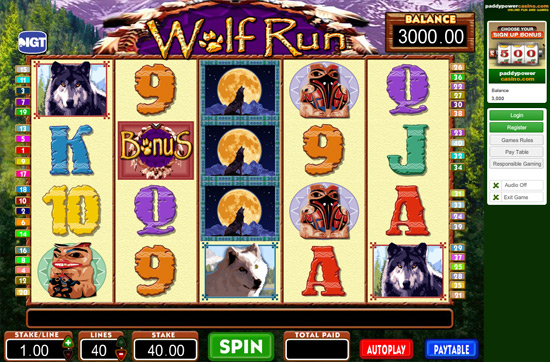 The Wolf Run Slot Game
The graphics are a refreshing change from the norm. Instead of flashing lights and sparkling gold, Wolf Run features more arty graphics. The name of the game with Wolf Run is to line up the howling wolf wild symbols and trigger multiple simultaneous wins. The wild symbols appear on every reel in stacks of 4 or more. Placing a bet is child's play. This is a multi-line, multi-coin slot game with a minimum of £0.01 and a maximum of £10. You control how many lines you play. Select 10, 20, 30 or 40 paylines. You can even just play 1. Bet 1-5 credits on each line. Your balance is distributed equally across all the paylines.
Wolf Run Symbols
The game has a rustic look and feel designed to evoke the spirit of the wild frontier. There's no shortage of symbols and winning combinations. Five of the Wild symbols can net you a maximum of 1000 credits. Meanwhile, 5 of the Black Wolf or White Wolf symbols instantly award 400 credits. Totem pole figures will net you 250 credits. The animation on the howling wolf symbol is particularly pleasing.
Wolf Run Bonus Game
Look out for the Free Spins bonus round. This is a great way to boost your spins, with a maximum win of 255 free spins. To trigger this round, 3 matching bonus symbols on the middle 3 reels are required. This round is almost more fun than the main game! It's all thanks to the stacked wilds and retrigger bonus awards. The tone of the game changes when you enter the Free Spins bonus round. Darkness descends and the atmosphere is charged with drama. It's very atmospheric stuff! And yes, the audio features do include a howling wolf. These aspects make for an exhilarating game play experience. I also liked the fact that scatter wins are paid in addition to line wins. Nice touch!
Why You Should Play Wolf Run
For starters, it's a much-loved classic with almost cult status – both in land and online casinos. It has 10 more paylines than most slots, which boosts your chances of winning quite significantly. Not to mention the retriggering bonus. The jackpot may not be huge but the odds are undeniably excellent. Wolf Run is ideal for beginners and has nostalgic appeal for more seasoned players. It's simple to play, the graphics are pretty and there are plenty of free spins. What's not to like?
Visit Paddy Power Casino
« Back To Paddy Power Casino Review